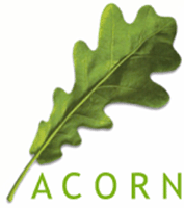 Implementing ISO 14001 can be a costly and confusing business for smaller companies with constraints on time and resources. As a result, in many instances the whole job may simply be handed over to a consultancy but in this case the expertise remains firmly outside the company. This approach misses the opportunity to really take ownership of the process and maximize the potential benefits which a good, site-specific EMS can provide.
To address this we can provide you with a step-by-step approach to environmental management based on the BS 8555 "Acorn" standard which was specifically developed for small and medium-sized enterprises to help them take ownership of their environmental management process, and at their own rhythm. The Acorn approach breaks EMS implementation down into a series of five logical, practical phases after which the organization has a functional EMS and is ready for ISO 14001 certification. Each phase is broken down further into stages with a range of tasks for completion which correspond to the Acorn achievement criteria. A further optional sixth phase is also available offering the chance to progress to EMAS registration.
By using this phased approach, organisations have more certainty over the exact requirements of the different steps that are involved. Clear milestones allow organisations to set a manageable timeframe for development and spread the cost thus providing the organization with reassurance that implementation is on track. BioLogic will work closely with you to make sure that you have a full understanding and can take full ownership each step of the way.